Fresh Fish Recipes
Baked Lemon Sole and Prawns
Ingredients
4 x 170g (6oz) lemon sole fillets, skinned
115g (4oz) cooked peeled prawns
4 x 15ml spoon (4 tablespoons) ready-prepared white wine sauce
salt and black pepper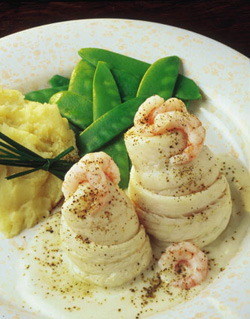 Method
Preheat oven to 190°C/375°F, Gas Mark 5
Place the fillets on a board with the skinned side uppermost.
Divide the prawns between each fillet, placing them at the head end. Roll up from head to tail and arrange in an ovenproof dish standing on their ends.
Pour the sauce around the fish and season. Cover and bake for 15-20 minutes. Serve with creamed potatoes and vegetables.