Fresh Fish Recipes
Kipper Chowder
Ingredients
570ml/1 pintfull milk
1 kipper
For the base:
25g/1oz butter
25g/1oz plain flour
milk (from strained kippers)
1 garlic clove, finely chopped
50g/2oz cheddar cheese, grated
100g/4oz cooked long grain rice
For the spinach:
225g/8oz spinach
2 tbsp white wine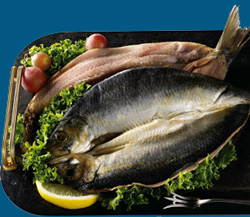 Method
In a large sauté pan, gently heat the milk.
Poach the kipper for 3-4 minutes.With a slotted spatula, remove the kipper onto a clean plate. Remove the skin, bones and flake. Using a sieve, strain the milk into a clean bowl.
Make the base:melt the butter in a medium saucepan. Add the flour and stir over the heat for 1 minute.
Remove the pan from the heat, pour in the milk stirring continuously to mix well. Return to the heat, add the garlic and cheese. Cook for 2-3 minutes. Season. Meanwhile to cook the spinach, wilt in a large pan with the wine for 2-3 minutes.
Strain, then squeeze out the excess water using a clean tea towel. To serve stir the rice, kipper flesh and spinach into the base mixture.