Family History
Alex Snr. and Mary started by buying a second-hand Hillman car and adapting it for selling fish by simply removing the back seats. Mary sold fish weekly in Perth and gradually built up a round which is still going strong.
One of the twin sons Andrew left school at 15 and started work helping brother Alex. Norman didn't immediately enter the business but did eventually join at a later date.
In 1980, they obtained a busy fish round in central Scotland. Mary and Andrew remember the first day of this new venture, when they started off on a very bad winter morning, van loaded with fish and list of names and addresses unknown to them.
Many vans had to turn back to Arbroath that day due to blizzards, however Mary and Andrew kept going and came back with an empty Van! Andrew passed his driving test at 17 and still carries on the same round 28 years later.
In the same year Alex Spink & Sons purchased their first shop in Blairgowrie.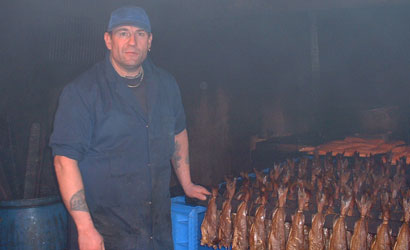 In 1982, the business moved to larger premises opposite the original 'Washhouse' and continued to trade there for several years. The premises was then further upgraded in 1992 due to continued growth. Later that year Alex Spink & Sons purchased another shop in Lochee, Dundee.This shop is run by Andrew.
Alex continues to work in the factory and travels to Aberdeen every morning to buy fresh fish direct from the market at Aberdeen and Peterhead.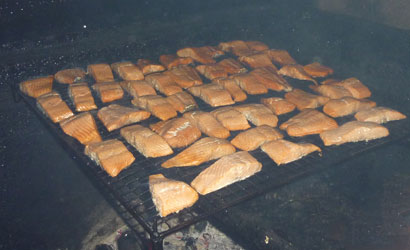 In 1987 Alex Snr. retired but still holds an interest in the business having owned the fishing boat 'Guiding Star' he continues to work mainly on the Smokies and deliveries.
Alex Spink & Sons goes from strength to strength with a workforce of 25, supplying numerous Hotels, Nursing Homes and businesses as well as fish deliveries to your door throughout Angus, Tayside and Fife.
The wholesale market is also growing with fish being supplied to Edinburgh and London.