Fresh Fish Recipes
Lemon Sole Roulades filled with Goats Cheese and Tomatoes
Ingredients
2 x 170g (6oz) Dover or lemon sole fillets, skinned
salt and black pepper
2 x 15ml spoon (2 tablespoons) fresh chopped dill
2 x 15ml spoon (2 tablespoons) medium fat goats cheese or soft cream cheese
4 cherry tomatoes, thinly sliced
zest and juice of half a lemon
Method
Preheat the oven to 200ºC/400ºF, Gas Mark 6
Place the fillets onto a board, skinned side up. Season. Sprinkle over half the dill. Reserve the remainder.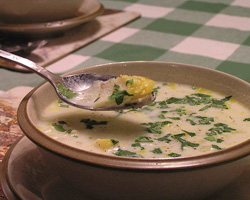 Lay the goats cheese over the fish and top with the tomatoes. Roll up and place into a greased ovenproof dish.
Add the lemon zest and juice and remaining dill. Cook in the oven for 10-15 minutes.Garnish with the dill and serve with asparagus.