Fresh Fish Recipes
Ingredients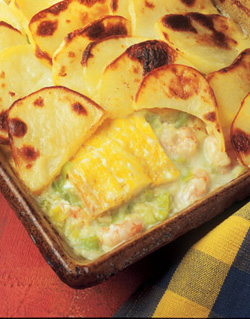 4 x 92g smoked haddock portions
125g (4oz) cooked peeled prawns (optional)
55g (2oz) butter
1 leek, sliced
30g (1oz) flour
300ml (10 fl oz) milk
black pepper
3 large potatoes, peeled, par-boiled and sliced
Method
Preheat the oven to 200°C/400°F, Gas Mark 6
Melt half the butter in a large saucepan and cook the leeks for 2-3 minutes until soft. Stir in the flour and cook for 1-2 minutes. Remove from the heat; gradually stir in the milk. Return to the heat and cook stirring until the sauce has thickened.
Stir in the prawns and seasoning. Place half the sauce into a pie dish; add the fish and spoon over the remaining sauce.
Top with the sliced potatoes and dot with the remaining butter. Season with the pepper.
Place the dish on a baking sheet and bake for 35-40 minutes.
Serve with a selection of green vegetables.