Fresh Fish Recipes
Ingredients
15g/½oz butter
2 shallots, finely chopped
1 clove garlic, finely chopped
1 sprig thyme
handful chanterelle mushrooms, cleaned and chopped
250g/9oz risotto rice
100ml/3½fl oz dry white wine
600ml/1 pint hot fish stock
225g/8oz cooked crayfish tails
2 tbsp mascarpone or double cream
2 tbsp freshly grated parmesan
salt and freshly ground black pepper
2 tbsp chopped fresh flatleaf parsley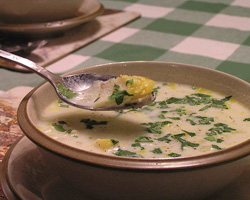 Method
In a medium saucepan, melt the butter and sauté the shallot and garlic for 5 minutes, or until softened. Add the thyme and mushrooms and gently fry for 2 minutes.
Stir in the rice until coated in the fat. Pour in the wine and allow to bubble for a minute or so.
Add a ladleful of the stock, bring to the boil, then reduce to a simmer, stirring constantly.
Add another ladleful of stock and stir again until absorbed. Continue adding more stock in this way until the grains of rice are plump and creamy. It should take about 15-18 minutes.
Fold in the crayfish tails for the last few minutes of cooking, followed by the mascarpone and parmesan. Season to taste with salt and freshly ground black pepper and stir through the parsley.